Reverse Problem Solving
Is it a vitamin or a pain-killer?
All B2B startups develop great innovative ideas that serve the business sector. But how many of them answer an existing market pain point?
Why fix it if it ain't broken ?
Reverse Problem Solving (RPS) is Our Problem First Approach for Enterprise Ventures (B2B). It was modified to suit the VC world by our co-founder, Mr. Ajoy Mallik, and is designed to identify existing pain points within this landscape. The fund works closely with large enterprises and Fortune 500 companies and will seek to invest in ventures with technologies that solve these problems.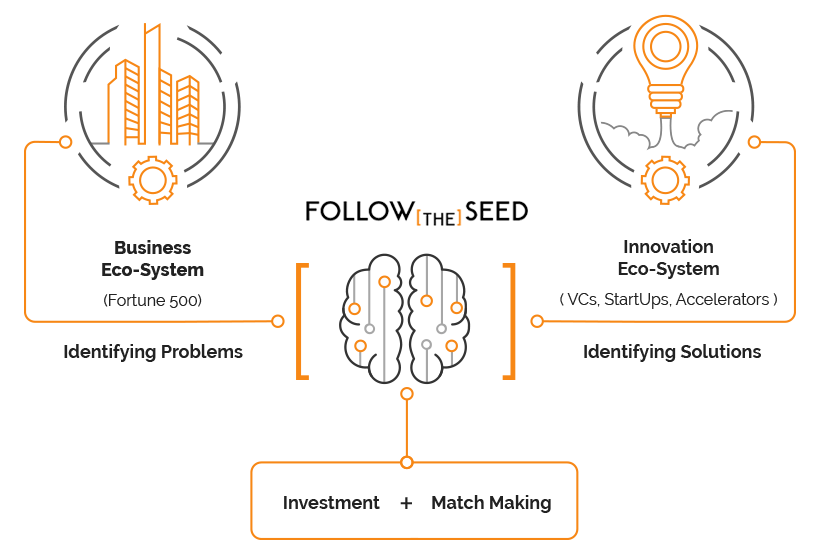 We invest money in your startup, and our hearts and souls on making it work!

As with every investment we make, we don't just give you our money and advice and wish you good luck. As a fund that is spread across different geographic locations and vertical expertise, we also help you grow.
Using our wide enterprise network and wealth of knowledge and experience, we hold your hand along the journey. We help with connections, the sales process, and everything in between to make sure you are on the right track to success.
Here are some of our portfolio companies that meet the RPS criteria:

[The] solution
Smart digital business card solution.
[The] problem it solves
Making digital transformation a real option for businesses, reducing carbon footprint, saving time and money, and helping with brand consistency issues.
[The] Results
Adopted by several Global 500 companies such as Vodafone Global, Verizon, and L'oreal
More than 2 million Haystack cards from 80 countries created on the system, with 100,000 new cards being created each month.
[The] solution
Protecting businesses' API from cyber-attacks in real-time
[The] problem it solves
Automating a solution for one of the major pain points in the enterprise landscape – security violability of APIs!
[The] Results
Adopted by several global companies which have resulted in detecting real threats in the wild.
The only company with a granted patent for identifying and preventing malicious API attacks.

[The] solution
A leading provider of VDI 2.0 (Virtual Desktop Infrastructure)
[The] problem it solves
The security and accessibility problems of employees working remotely
[The] Results
Recently named Best of VMworld 2016's Gold Award Winner for Desktop and Application Delivery.
Already announced partnerships with leading hyper-converged infrastructure vendors, including Nutanix, Hewlett-Packard
Think your startup's got what it takes to make it to our wall of fame?
Tell us all about the problem you are solving
and how exactly you are approaching it: