RavingFans®
Are They Addicted or Predicted?
Any B2C startup founder can easily count their app downloads, onboarding completion, and listed users, but how can you measure your users' behavior?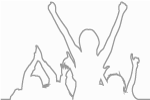 The RavingFans® model
Is a behavioral psychology model, designed to identify successful B2C habit-forming products and services at early stages. It lets your users tell the tale and makes it easier for us to make informed investment decisions.
Want to find out if your users are RavingFans®?
And get our feedback within 30 days!

We've developed the RavingFans® model in order to help both VC funds and entrepreneurs simplify the investment process.
While long meetings and polished pitch decks had served us all for a long time, we're sure you'll agree that it also wasted a lot of our time…
The RavingFans® model offers more for less
Less

More

Time wasted on meetings and pitches

Time spent on your vision
Focus on who you know

Focus on what you do
Pitch decks piling up on our desks

Chances to be discovered
(and get invested)
Polite smiles and
nodding heads

Constructive feedback
How can YOU turn YOUR users into RavingFans® ?
While there's no magical one-size-fits-all formula for creating irrational users, we can usually use the RavingFans® model to pinpoint the areas that you can focus on to improve it, and we are more than happy to share this with you.
Within 4 weeks of implementing the SDK, we will be able to send you some general tips and tricks that can possibly move your customers from users to raving fans.
Why Wait?
Let's start our joint journey today!
Let's start working together!